Digital Transformation Framework
Use a data-driven digital transformation framework to evaluate opportunities, develop an evidence-based roadmap for growth and create an effective plan of action.
Stop Committing 'Random Acts of Digital'
Our data-driven transformation framework enables you to:
Identify opportunities for growth
Identify opportunities for innovation
Identify new sales opportunities
Employ the most effective marketing tactics for your business
Understand if and how you can take on your digital competitors
Identify capability gaps
Select or create the right technology to deliver transformation
All using data driven decision making.
Use Data to Diagnose the Best Opportunity for Business Growth
Creating a vision and a clear journey as well as expressing the value that brings to your customer, is crucial when delivering change. This process is significantly simplified and structured using this framework.
Calculate Exactly What the Customer Wants
This framework helps you calculate the volume of customers in the market you wish to grow in, identifies the tasks the customer is trying to achieve and tests if the customer would buy your proposition over that of your competitors.
Evaluate Your Competitors
Don't waste your resources taking on battles you can never win. Understand your competitors' propositions, calculate their online force and find a niche you can own.
Make Plans That Are Achievable With the Resources at Hand
Leverage what you have to get what you need. Your organisation's available resources play a key role in how your digital transformation journey will map out. Time, talent for innovation and cash availability can all be leveraged to your advantage.
This Is The Ionology Strategy Quadrant
Principle 5: Where are we now?
Principle 6: What play can we make?
Define Your Baseline
Principle 5: Where are we now?
All transformation journeys have a starting place – where you are now in the digital marketplace. Use data to define that position in the Ionology strategy quadrant and give your organisation common understanding for ultimate clarity in communication.
Select Your Play
Principle 6: What play can we make?
There are set plays for moving around the quadrant. Calculate implications of any given play on your top line growth, cost of investment and use of resources before you pivot your business.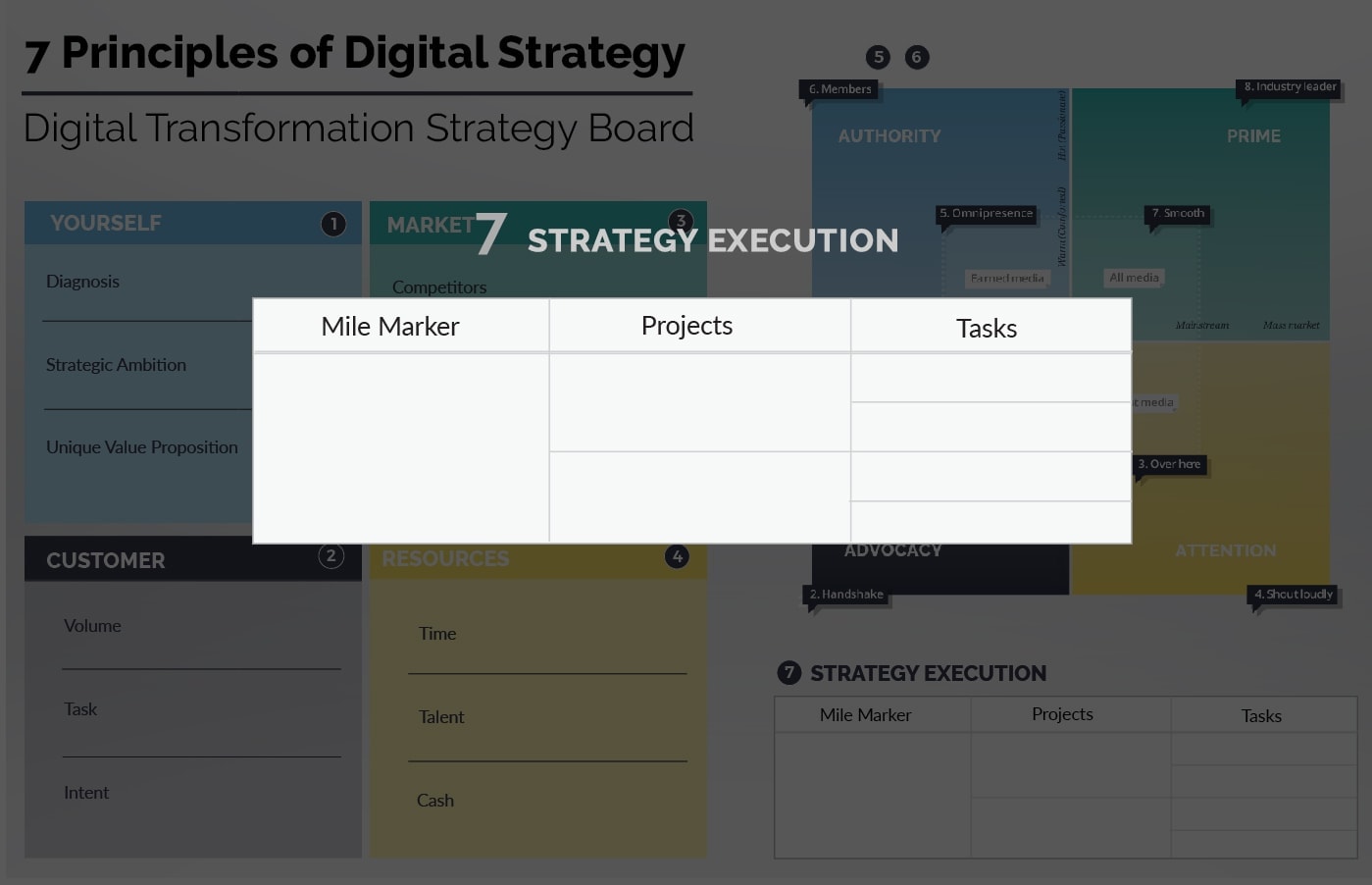 Create A Clear Plan Of Action For Managers To Implement
Principle 7: Strategy Execution
Turn your transformation strategy into actionable projects and tasks. Assign responsibility, unify your people and bring your plans to life.
What Would You Like To Do Now?
FAQ
Common Course Questions & Answers
Where do we start?
Melissa McCafferty
2020-04-03T02:51:09+00:00
The starting point for any digital transformation project is with strategy and with strategy.  We have to use the 7 Principles of Digital Transformation Framework, developed by Ionology. It is academically peer-reviewed and taught in many leading universities. Out of the framework; you can start with any of the first 6. #1 Know yourself, #2 Know your customer, #3 Know your market place, #4 Know your resources, #5 Where are you now?, #6 Where do you want to go?  #7 is Creating your Strategic POA. Most people feel more comfortable starting with where they are now and where they want to go. But it is equally as valid to start with "Know Yourself", a diagnosis of the situation and articulate your unique VP going forward. Strategy is not written in a linear sense, as we get more data and we start to query the process, our value proposition can change, our ambitions can change, until we reach the time where we are content with our chosen play or pathway. The advice which we would offer is to start at number one "know yourself" and truly diagnose the current situation as to "why we need change" or start with number 5 which is "where are we now" as both are similar inward reflections of your organisation.